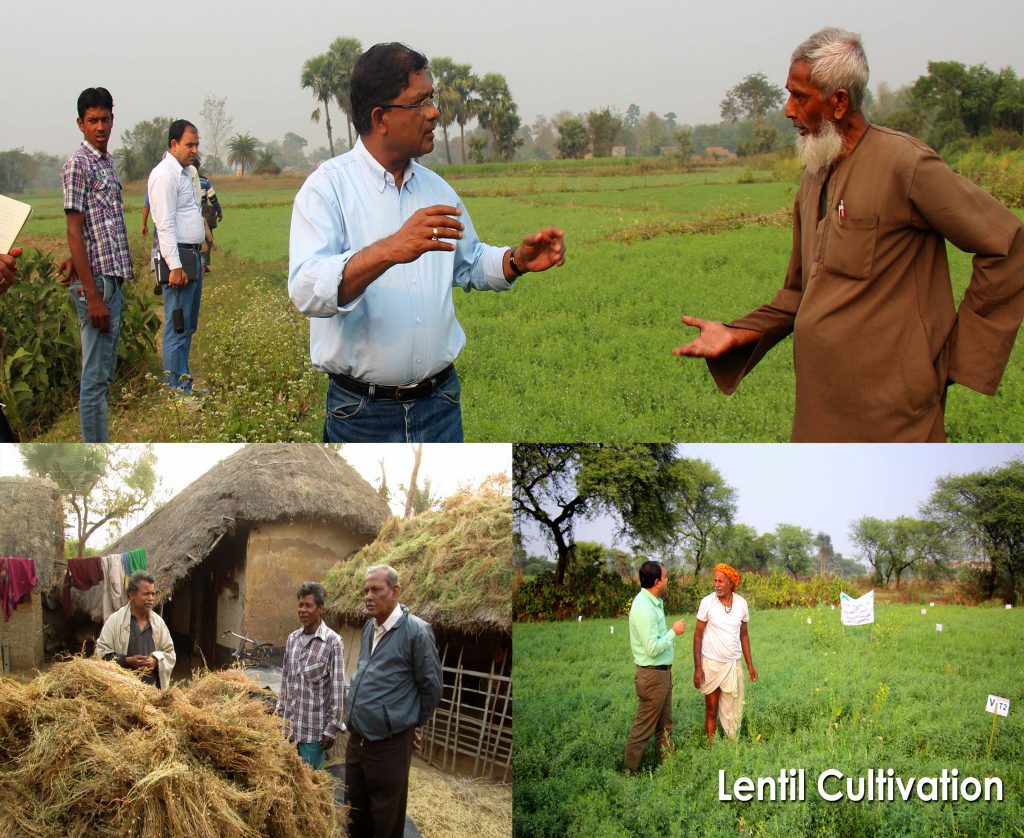 Lentils, botanically-known as Lens culinaris, have been a source of sustenance for our ancestors since prehistoric times. The word lentil comes from the Latin lens, and indeed, this bean cousin is shaped like the double convex optic lens which took its name from the lentil.
Indians consume 30% of the world's pulses, but domestic production of pulses has not kept pace with population growth. Pulses production has grown at only 1% from 1951–2008 compared to a population growth of about 2 % in the same period.
The yield of pulses has been very low in India, with 45 % increasing growth between Financial Year 1951–2008, compared to the productivity of wheat and rice, which have grown multiple, at 32% and 23%, respectively, during the same period. As a result import of pulses in India have been increasing and currently account for about 15% – 20% of total domestic availability.
Our Activity
We are working on Pulse Production cum Demonstration Programme at 51 villages of 5 Blocks (Bolpur-Sriniketan Block, Dubrajpur Block, Khoyrasole Block, Illambazar Block and Mayureshwar – I Block) as Pilot Project in Birbhum District.
Bolpur Manab Jamin (BMJ) with the support of International Centre for Agricultural Research in Dry Areas (ICARDA), New Delhi and OCP-Foundation, Morocco focused on training, information dissemination, technical and financial assistance for rural sharecropper and marginal farmers to cultivate Lentil for generating alternative income based on market economy & marketing, combat malnutrition and improve soil fertility. Apart from rising the production and productivity of Lentil by the participating farmers another purpose is to inspire other farmers in the adjoining areas to accept these technologies for the betterment of development and sustainability.
Increasing food legumes productions by small farmers to strengthen food and nutrition security through adoption of improved technologies and governance within South-South cooperation are the main aims of the programme.
The impacts are:
Increase in Lentil production
Increase in household income
Increase in cropping intensity
Increase in Legumes consumption
Combat Malnutrition
Increase soil fertility
Bolpur Manab Jamin also got the technical support of Agriculture Department; Govt. of West Bengal and Visva Bharati Universtiy for the training of the farmers regarding Lentil cultivation. 642 farmers participated in this programme. 2398 kg of special variety certified seeds had been distributed. Each farmer got special variety of Foundation and Certified Seeds of Lentil (Subrata, Moitree, PL-6, HUL-57, Asha) to demonstrate this programme.
From the field result it is observed that cropping intensity increased after Lentil demonstration in the project villages. On an average 47 man days created per ha. by lentil demonstration. Reduced labour migration on an average 23 man days per ha. Due to reduction of labour migration, are fewer dropouts from school of children. Senior family members get better service from their next generation.
This year 132 marginal farmer's families made a contract with landless families to give 15% of their produce as labour cost for harvesting, carrying, thrashing, etc of Lentil. By this way the landless family get and consume more Lentil to combat malnutrition also change their food habit.